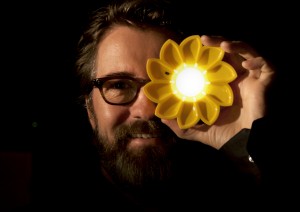 Olafur Elliasson, renowned Icelandic-Danish artist, believes that art has the power to transform society.
A native of Iceland and Denmark, Eliasson studied at the Royal Danish Academy of Fine Arts before opening his studio, Studio Olafur Eliasson, in Berlin in 1995. Since then, he has realized numerous exhibitions around the world, such as The weather project at the Tate Modern (2013), Contact at the Fondation Louis Vuitton (2014), or most recently Olafur Eliasson Versailles at the Château de Versailles (2016).
His work — which includes sculptures, paintings, photography, films and installations — is not limited to the confines of a museum or gallery, it also takes place in public space, such as Green river (1998-2001), The New York City Waterfalls (2008), and Your rainbow panorama (2011).
The relationship between man and the environment has always been a recurring theme in his oeuvre, but in recent years it has taken on a decidedly activist tone. His current work triggers a greater sense of awareness, particularly about climate change.
For the COP21 in Paris in 2015, Olafur Eliasson exhibited Ice Watch, an ephemeral installation in the place du Panthéon that consisted of a dozen icebergs, 80 tons of ice, coming from Nuuk, Greenland. Displayed in a circle, like the dial of a clock, the volume of each block ice represented the equivalent of the ice that melts each one-hundredth of a second. The aim was to make climate change palpable, spurring a desire to act.
Olafur Eliasson is also a social entrepreneur. Together with engineer Frederik Ottesen, Eliasson founded « Little Sun, » an NGO that creates, sells and distributes solar-powered lamps to communities without access to electricity across the world.
Sources: