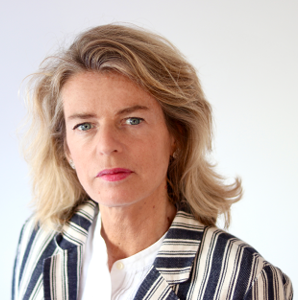 Alice Audouin
Chairman and founder of Art of Change 21
Alice Audouin has been involved in sustainable development for 20 years, including 18 years promulgating the link between contemporary art and the environment. She organized the first international colloquium on the theme of « The Artist As Stakeholder » in 2004 at UNESCO, then co-founded and chaired the association COAL (the Coalition of Art and Sustainable Development) from 2008 to 2014.
She has curated numerous exhibitions on environmental topics, such as global warming and biodiversity: Novacene (2022), Vita Extremis (2022), Biocenosis21 – organized by Art of Change 21 (2021), Warmingland (2018), Post-carbon (2015), and she was the guest curator of Art Paris 2022 on the theme « Art and the Environment".

She is the former director of sustainable development at Havas Media (2005-2013) and participated in the creation of Novethic of the Caisse des Dépôts Group, where she was the marketing and communication director (2000-2004). Since 2015, she has been a consultant in sustainable development for her firm Alice Audouin Consulting specializing in the cultural sector (clients: Ruinart, Relais & Châteaux, Hermès, Guerlain, Louboutin…) and the cultural sector (Musée de l'Elysée de Lausanne, RMNGP, Grand Est region…).

She has participated in more than 100 conferences, many of which are on the role of culture in favor of the environment, at the European Parliament, UNESCO, the Centre Pompidou, TEDxCannes, the Libération Forum, the Senate, etc.

She has published three books: the novel « Ecolocash », Anabet, 2007; « La Communication Responsable », with Anne Courtois and Agnès Rambaud, Eyrolles, 2010; « On entend dire que…l'écologie c'est fini », Eyrolles / Les Echos, 2013.

Alice Audouin has lectured for a long time at university. Former associate lecturer at the University of Cergy-Pontoise, former lecturer at the University of Paris I Panthéon Sorbonne (creation of the class »Art and sustainable development ») in the Department of Plastic Arts and Art Sciences….
She has a university education and holds two Master's degrees in research (Philosophy and Economics, University of Paris I Panthéon-Sorbonne), a degree in History of Art and a diploma in transdisciplinary studies from CETEC (University of Paris-Dauphine).
She was made Chevalier de l'Ordre National du Mérite in 2016.