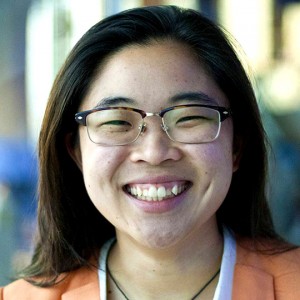 Linh Do, jeune engagée pour le climat – Australie.
Le Conclave 2014
À seulement 25 ans, Linh Do a déjà plus de 10 ans d'engagement dans l'environnement et compte parmi les figures montantes de la scène environnementale internationale. À l'âge de 15 ans, elle a lancé la campagne « Change A Million Light Bulbs » qui a conduit le gouvernement australien à voter une loi pour limiter les ampoules à incandescence dans son pays. Cette campagne a eu un écho dans le monde entier.
Elle est également la co-fondatrice de Our say  et de The Verb, média international qui entend apporter une compréhension juste et profonde des grands enjeux actuels. Réunissant des contributeurs de plus de 17 pays, professionnels sur le terrain ou chercheurs, les articles publiés dans The Verb sont relayés par Al Jazeera, Reuters, The Huffington Post, Crikey, Jezebel, SciDev, etc.
Nommée en 2013 « Jeune Défenseur de l'Environnement » par l'AG Society Gala Awards et lauréate du World Economic Forum Global Shaper la même année, Linh Do est également l'une des Junior Chamber International Outstanding Young Persons of the World.
www.theverb.org
Son intervention sur TED : Defying Social Norms for Social Change