Climate Being is a manifesto: human beings cannot exist without a climate that ensures their living conditions, i.e. a climate neither too hot nor cold nor polluted. It raises the alarm: a 5°C rise in temperatures by 2100 represents a direct threat to human life on earth.
This manifesto arose from a co-creation process at the Art of Change 21 Conclave, which brought together artists and social entrepreneurs from around the world at the Grand Palais in 2017.
Sharing this message, especially in the field of art, is a priority for the association Art of Change 21.
Thus in 2019, Climate Being was the focus of an initial action – a silent, positive and committed artistic performance to raise awareness of global warming – specifically designed for Art Basel, Europe's leading international fair for contemporary and modern art.
This performance was created and produced by a team of young environmentalists and artists, all members of Art of Change 21.
Climate Being was officially welcomed by the management of Art Basel and programmed twice a day for four days.
It consisted of three paintings and a walkabout around the fair.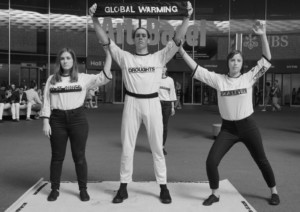 Act 1 – The future is being decided now
The acceleration of global warming has many consequences: rising sea levels, loss of biodiversity, heatwaves, etc. Faced with the threat of collapse, two options are open to individuals: indifference or awareness leading to action.
Taking action means giving the future a chance to be different, through more responsible consumption, reducing carbon emissions, renewable energies…
At the heart of this new roadmap is the committed artist. He and she embody this post-carbon future, giving it form and meaning.
Keywords used for this action: global warming, heatwaves, rising sea levels, disregard, collapse, action, awareness, green energy, committed artist, your choice.
Act 2 – The artist polluter
With the art market still going global and growing, artists today are now being considered 'artist polluters', with their works being flown around the world and production methods often incorporating those of traditional and non-ecological industries.
Materials that harm the environment and health, transport…. The carbon footprint of art is becoming an issue and an invitation to rethink the art sector as a polluting industry. Artists cannot shy away from this new dilemma: how to create without polluting?
Keywords used during this action: CO2, flying, plastic, acrylic, carbon, pollution, solvent, trucks, oil.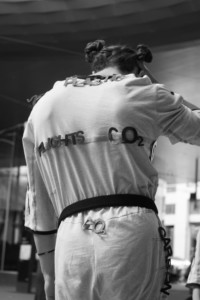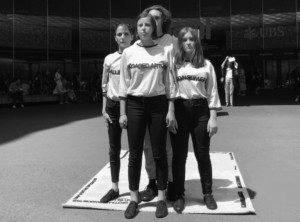 Act 3 – The committed artist
Artists, collectors, gallery owners, and consumers are all playing a part in the frenetic acceleration of the world around them; they are ending up losing their way.
Commodification, globalisation and consumption are gaining ground in the field of art.
Emerging from this headlong rush, the committed artist represents a figure of resistance. He and she open up opportunities and reveals new horizons to the players of their ecosystem.
Around the committed artist, collectors, gallery owners and consumers have the power to contribute positively to change.
Keywords used during this action: gallery owner, collector, consumer, committed artist.
The performance received plenty of positive feedback.
Climate Being featured on the cover of the contemporary art magazine Artnet.