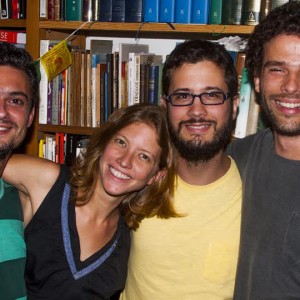 Opavivará ! Coletivo, artistic collective – Brazil
Member of Le Conclave 2014
Opavivará! is an art collective from Rio de Janeiro, which develops actions in public spaces of the city, galleries and cultural institutions, offering inversions in the use of urban space through the creation of relational devices that provide collective experiences.
Since its creation in 2005, the group has been actively participating in the contemporary arts scene. The goal is to create situations that activate and increase power of life: how to drink and dance together, or celebrate any day gathered in the square, at the beach or on the street. Celebrating the carnival out of season, to increase its transformational power.
Concentrated on the anthropocene, Opavivará!'s works are a space that worships the non-productive and nonactive and it stands as a counter proposition to our accelerated times. Their latest work, Formosa Decelerator, is a kind of sloth temple, a space that allows our accelerated daily routine to be stretched, opening up the path to a more organic, pleasurable and reflexive fruition of our environment as a counter proposition to our accelerated, superficial and volatile times.