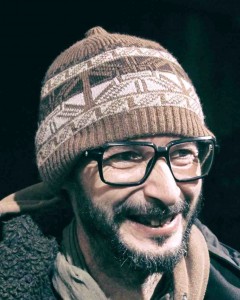 Laurent Tixador, artist – France
Member of Le Conclave 2014
Laurent Tixador is a French artist who lives his art like a true expedition. Often put into survival situations, he confronts his self to hostile environments, from Greenland to Siberia. His adaptation is realized with interventions allying construction and self-sufficiency. Thanks to his nomadism and zero-impact approach, he is today an emblematic artist of ecological adaptation, from "slow" to "zero-waste".
From his works are liberated precious teachings about the human capacity to face urgent situations and organize resilience. His performances are adventures, to put to the test mental and physical capacities: to stay indoors for twenty four hours with hundreds of mosquitoes, going from a city to another by foot to open his own works, going up rivers against water rapids and winds…
Laurent Tixador flirts with absurdity and burlesque, questioning our relation to reality and inviting us to react to the climate crises with our own personal resources: heads and hands.