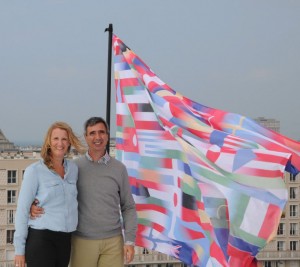 Lucy + Jorge Orta, artists – United Kingdom, Argentina, France.
Members of Le Conclave 2014
Lucy and Jorge Orta's collaborative practice draws upon urgent ecological and social sustainability issues to create artworks employing diverse media, including drawing, sculpture, installation, couture, painting, silkscreen, photography, video and light, as well as staged ephemeral interventions and performances. Water, biodiversity, food, climate change, freedom of movement and world-wide citizenship are at the heart of their work.
One of their major work is the Passport Antarctica of world-wide citizenship, signed by the artists themselves, which takes the Antarctic as a universal symbol of the common good, of preserving the environment and of freedom of movement. They have already delivered it to 60 000 people. Amongst their most emblematic series are: Refuge Wear and Body Architecture, portable minimum habitats bridging architecture and dress; HortiRecycling, exploring the food chain in global and local contexts; 70 x 7 The Meal, concerning the ritual of dining and its role in community networking; Nexus Architecture, establishing alternative modes of the social bond; Clouds and OrtaWater, addressing the increasing scarcity of this vital resource.
Their last performance, Battleships, in Beijing (Ullens Center of Contemporary Art) delt with the control of natural resources in the poles. For this project the artists received the Green Leaf Award in 2007 for artistic excellence with an environmental message, presented by the United Nations Environment Program.
Lucy + Jorge Orta's artwork has been the focus of major solo exhibitions at the Venice Biennale (1995); Johannesburg Biennial (1997); Vienna Secession (1999); Barbican Art Gallery, London (2005); Museum Boijmans Van Beuningen, Rotterdam (2006); the Biennial of the End of the World, Ushuaia, and the Antarctic Peninsula (2007); Shanghai Biennale (2012); MAXXI National Museum of XXI Century Arts, Rome (2012); Yorkshire Sculpture Park, Wakefield (2013); and Parc de la Villette, Paris (2014).