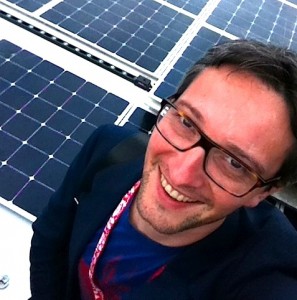 Cédric Carles, entrepreneur – France
Member of Le Conclave 2014
Passionate about energy concerns, Cédric Carles uses his SolarSoundSystem (100% autonomous DJ booth, powered by solar and dynamo energy) to promote a different ecology and a culture of commitment. Thanks to his invention, he develops an unprecedented alliance of ecology, conviviality and solidarity.
SolarSoundSystem projects are all around the world (Haiti, India, Brazil, Cameroun, and Taïwan), and have been certified by UNESCO Switzerland under the category of "The decade of United Nations for the Education of sustainable development". Cédric also created ITEX ("ITinerant EXposition", or, "Mobile Exhibition"), an NGO dedicated to educating schools on renewable energy/energy efficiency. His critical reflection on energy technology and progressive living has aroused the Department of Research of the Cité du Design's interest as well as the Leroy Martin think tank, with whom he currently collaborates.
Cédric wears several hats: designer, first-aid energy worker, independent researcher in sciences and technology history, and DJ. When he presses the Play button, the ecological transition is on fire.