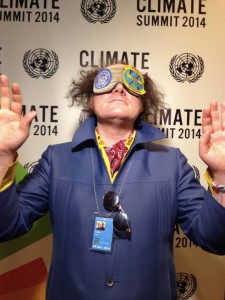 Yann Toma, artist – France
Member of Le Conclave 2014
He is a French artist and art researcher. His works and thoughts concern the political, environmental and media context. To him, the artist as a free media has a civic responsibility to occupy public space and question citizens. He often works with industrials, political sciences players and philosophers.
In the 90's, Yann Toma brought the old electricity company Ouest Lumière back to life: its place, archives and name. It had been created in 1901. He is now president for life. A monograph of his work was written, that presents his texts, interviews, 700 photographs and illustrations, and shows the extent of his works and artistic reflections.
Active on the international environmental scene, he is artist member observer at the UN. His works are exhibited in many collections, for example at the Centre Georges Pompidou or in the Fonds national d'art contemporain collection. In 2011, his participative exhibition Dynamo-Fukushima about the Japanese catastrophe at the Grand Palais brought more than 24 000 people in only 3 days.