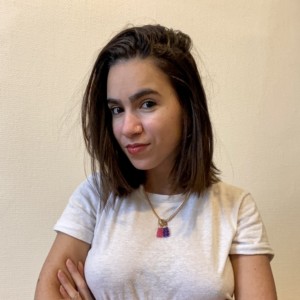 Éliane Kassas
Project Manager
Having worked and studied in Beirut and Milan, via Luxembourg and Brussels, Éliane's career in design has been an international one. She has accumulated much professional experience in interior design, product design, artistic event management and project management.
Her pronounced taste for multidisciplinarity, her adaptability and her great curiosity, lead her to change professional course in 2019. She began a master's degree in Cultural Management at École EAC, which has allowed her to develop skills as a community manager, web editor, and cultural projects manager. 
Convinced that the future lies in the protection of the environment, she decided to explore further the relationship between ecology and culture, and joined Art of Change 21 in 2021 as project manager of the Maskbook campaign. She also takes care of the eco-design and contemporary art project and communication.
A Lebanese-born polyglot, Éliane holds a bachelor's degree in Interior Design from home, and a master's degree in Product Design from Italy. Passionate about civilizations, art, design and fashion, she wants to contribute to a world that is both sustainable and desirable.