More than 120 articles in the international press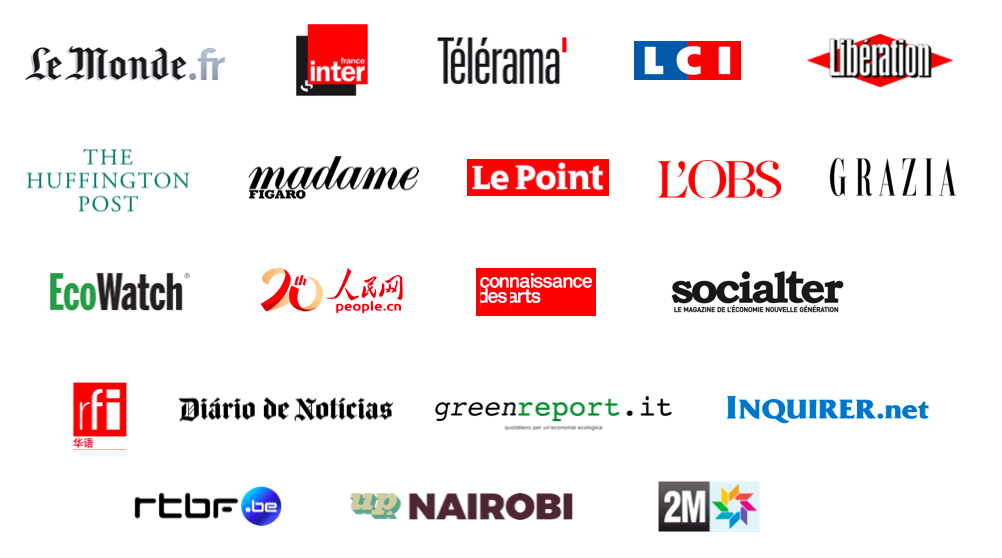 Latest press coverage:
Le Quotidien de l'Art, Les Verts et la culture : un dialogue à trouver, November 2020
Kanagawa Shimbun, A world living with the corona virus, October 2020
Green Stand, Maskbook Japan: Spreading the Green Gospel, August 2020
HugKum, Now it's fun and educative. Let's challenge the mask art project from France!, August 2020
Global Organic Network, "Maskbook" An art project from France that considers the new corona era and environmental issues, August 2020
Sparknews – La Fabrique des Récits' Newsletter, Les projets soutenus par la Fabrique, June 2020
Bernishoot, Maskbook Covid19, quand les masques deviennent Art, May 2020
Toute la culture, Agenda des expos et des galeries de la semaine du 29 mai, May 2020
Nous Deux, Nos masques bientôt au musée ?, May 2020
Le Parisien, Masques de protection : 5 idées pour sortir de l'ordinaire, May 2020
First Post, For the Maskbook campaign how artists world over are using protective mask as canvas for creativity, May 2020
Télérama, Enfants à la maison jour #50 : 4 idées pour (bien) les occuper, May 2020
Beaux arts, Quand fleurit l'art du "Do it yourself", May 2020
We Demain, Coronavirus : Quand les masques deviennent des œuvres d'art, April 2020
The Chaupal Speaks, Creation VS Collapse, April 2020
L'influx, A vos masques, prêts ? Partez !, April 2020
Le Monde, "Le système des foires d'art est-il encore acceptable ?", April 2020
Mediapart, Biennales, fin de parties ?, March 2020
Global Times, Face mask art project inspires creative release amid Covid-19, March 2020
Marianne, Le désastreux bilan carbone de… l'art contemporain, December 2019
ArtNetNews, 'Everyone at a Place Like Art Basel Is Complicit': Artists May Be Making Art About Climate Change, But Nobody at the Fair Wants to Talk About It, June 2019
Le Monde, Le milieu de l'art en quête d'écoresponsabilité, January 2019
Le Temps, Le lourd bilan carbone de l'art contemporain, January 2019
DW, Raising Awareness on pollution, December 2018
Download the Pressbook 2014-2015
PRESS RELEASES AND NEWSLETTERS:
NEWSLETTERS
April 2020, Launch of the Special Covid-19 Maskbook action
January 2020, Climate and biodiverty at the heart of the action
December 2019, Special COP25
September 2019, Art will be on show at COP25
May 2019 Climate Being: Climate Change Meets art in Basel
January 2019, A promising start to the year for Art of Change 21
Discover all our newsletters and press releases
PRESS RELEASES
April 20th, 2020, Launch of the Covid-19 Special Maskbook Campaign
June 7th 2019, Climate Being : Climate change meets Art in Basel 
November 28th 2018, Art and Upcycling at the heart of the COP24
October 2016, Maskbook, as cultural highlight of Habitat III, October 2016, Quito, Ecuador
November 2017, Creative Klima, for the COP23 in Bonn
September 25th, 2016 Autumn 2016: 10 Maskbook events on 4 continents!
Discover all our newsletters and press releases