A new generation of artists committed to the environment is emerging in France.
Our editorial team proposes to explore four major trends within this young committed scene, from the 21 winners of the Planète Art Solidaire support awarded by Art of Change 21 (editor of this blog), sponsored by Maison Ruinart.
See also other trends:
The New Druids
The Scientific Auxiliaries
The Anthropocene Composters 
Placing the environmental question on a human level is a priority for the new generation of committed French artists. At a time when social and environmental issues, long separated, are finally engaged in dialogue and share a common destiny, a new perspective is emerging, bringing lived experience, feeling, memory and psyche to the fore. Through research and collaboration with communities, artists probe the lives inspired or disrupted by the ecological crisis, with a broader vision of social justice.
In Transfert d'attachement (Attachment transfer), Ikram Benchrif draws information from Burno Latour's Où atterrir ?  (Where to land?), exploring feelings of attachment as experienced by a nomad in Mongolia. She is currently leading a film project on the eroded river bed in the Moroccan Anti-Atlas and working with a village to understand both social and environmental issues, intertwined in a changing landscape.
Jean-Baptiste Perret focuses on the rural environment, weaving together cinema, anthropology and micro-history, paying particular attention to vulnerability and affect in his creative process. His project captures the portrait of a community of young people who recently moved to the Gorges du Haut Allier and are putting their ecological and political beliefs into practice.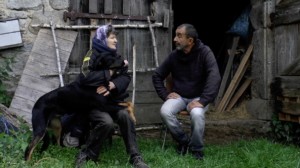 Capucine Vever's films and installations reveal the problems faced by anthropized environments and areas affected by global warming. Her latest video project, DUNKING ISLAND, addresses the rising sea levels around the highly symbolic Île de Gorée in the bay of Dakar, a major symbol in the history of slavery. She highlights the alarming rise of sea levels where the consequences of human activity are threatening to bury the memory island.
Camille Juthier's work deals with the transformation of bodies and psyches through post-industrial settings. The granddaughter of farmers, she draws on both agriculture and psychological care to challenge our conceptions of comfort and nature. Her installations blend sculpture and film, and are fuelled by ecofeminism and a critique of the ideology of progress, like in her series of sculptures  Be bi, être pierre (Be bi, to be stone) composed of blown glass bulbs containing aquatic ecosystems. She is currently working on a film project that portrays the consequences of the environmental crisis on our psyches.
Alice Audouin and Pauline Lisowski
June 2021
Photo credits :
Jean-Baptiste Perret, L'Hiver et le 15 Août, film HD projeté, 56min, son stéréo ou son multicanal 5.1, photogramme du film, 2018, courtesy of the artist / Capucine Vever, Navigations du pôle Nord au pôle Sud magnétique, vue de l'exposition personnelle « Une terre qu'on ne voit jamais au même endroit, de jour comme de nuit », Instants Chavirés, Montreuil, ©A.Mole et C.Vever / Camille Juthier, Chutes glamour, Delightful Falls, Elbuvolo Zuhanas, installation dimensions variables, Budapest Gallery, 2019
Find all the articles from Impact Art News n°31 – June 2021
To subscribe to Impact Art News (free) : here