This summer in France, ecology is proving to be significant in exhibitions, artistic programs outside of museum walls, as well as in heritage and the countryside. The artists respond to the thoughts of philosophers working on care and new ways of living with non-humans, as well as the accelerating climate crisis. From Le Havre to Nice, via Strasbourg and Paris, this program reveals a consciousness that is both post-covid and post-carbon, defending creation in resolute dialogue with all living things.
Insights into nature and the post-carbon world
Théo Mercier has a personal exhibition at Le Portique Art Center in Le Havre, which he calls "Nécrocéan", recreating ruined landscapes of objects that bear witness to a new era, where plastic, little by little, engages in a new organic cycle. At the Lambert Foundation in Avignon, sand – also a symbol of ruin – is the material for his post-apocalyptic "Outremonde exhibition. At the Narcissio in Nice, Myriam Mechita starts from a rock to get to talking about the body and other living beings, with the help of Julie Crenn. Otobong Nkanga exhibits works inspired by the sea and his travels at the Villa Arson, denouncing the exploitation of resources and the inequalities that they cause.
In Paris, Jean-Marie Appriou and Marguerite Humeau exhibit at the Lafayette Anticipation Foundation, starting with a study of the power of "weeds". Mark Dion's major exhibition at the In Situ gallery combines natural and social sciences in the face of the ecological crisis. At the Sono gallery, Mathilde Cazes and Eugénie Touzé combine perceptions of two island territories: Japan and Iceland. Sensitive, delicate and cosmopolitan, the exhibition "Drawing Power – Children Compost" at the Drawing Lab, presents works of the order of drawing and beyond the practice, to evoke our relationships with nature, sometimes invisible, highlighting the challenges of movement and of territory, inviting you to take a closer look (Giuseppe Penone, Barthélémy Toguo).
Art and landscape routes
As part of the "Voyage à Nantes" (Travel to Nantes), Bianca Bondi takes over Le Temple du Goût by embalming it with scents for a ritualistic experience. "Annecy paysage" (Annecy landscape), which also started on the same date, allows visitors to discover Se planter et Ecouter la Terre (Stand still and Listen to earth), installations by Karine Bonneval, and Le Foyer, Home by Lélia Demoisy… works that place plants at the heart of the city. At the Palais de l'île Musée d´Annecy, Benoît Billotte presents Sous la canopée (Under the Canopy), tinted fabrics that conjure up a faraway nature. This year, at the Chaumont-sur-Loire estate, Chantal Colleu-Dumond hosts numerous installations and exhibitions by artists committed to art and environmental issues such as Chris Drury, drawing artists François Réau and Fabien Mérelle, or even the designer Alexis Tricoire, who humorously recomposes an Amazonian forest from industrial objects.
An organic evolution of the works is revealed at the exhibition "La vie à elle-même" (Life to itself), curated by Flora Katz at the Center International d'Art et du Paysage in Vassivière-en-Limousin. The vitality of the material emerges as we discover the artistic works of Tiphaine Calmettes, Laure Vigna, Bianca Bondi, Grégory Chatonsky… created specifically for the place and that react to each other.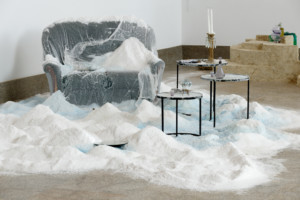 Philosophical, political commitment
In the park of the international city, the exhibition "La cité de soleil" (The city of the Sun) proposed by the CNEAI, invites you to take a journey through 356 trees. "Il ne faut pas gâcher la crise" (We must not spoil the crisis), is Bruno Latour's appeal, with the basis of this exhibition projecting outside the walls, requiring one's eye opening during the walk in order to discover the drawings inserted into the tree trunks. At Le 104, the exhibition "Énergies désespoirs, Un monde à reconstruire" (Despair energies, a world to be rebuilt) from the architectural Encore Heureux collective, presents a campaign of slogans and paintings by the artist Bonnefrite which remind us of the urgency to take measures and rethink how to live more ecologically and in harmony with our living spaces. Finally, Marseille is hosting the solo exhibition "Oikos Logos" by the artist Zevs at MaMo, where NFT and petroleum come together in collusion, an invigorating appetizer before the back-to-school meeting the IUCN World Congress of Nature, an important fixture for contemporary art with the Biocenosis exhibition (see article) organized by Art of Change 21, publisher of this newsletter.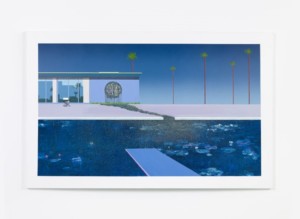 Pauline Lisowski
July 2021
La ville à elle-même, Ciap, Vassivière-en-Limousin, from June 13 to September 5
When looking Across the sea Do you dream ? Otobong Nkanga, Villa Arson, Nice, from June 12 to September 19
Le voyage à Nantes, from July to 3 September 12
Annecy Paysages, from July to 3 September 26
A stone is a stone, is a stone, is a stone, Myriam Mechita, Le Narcissio, Nice, from June 12 to October 2
La cité sous le ciel, Cité internationale de Paris, from June 16 to August 29
Énergies Désespoirs, le 104, Paris, from May 29 to August 29
Deux îles, Mathilde Cazes, Eugénie Touzé, galerie Sono, Paris, from July 23 to September 25
Nécrocéan, Théo Mercier, Le Portique, Le Havre, from June 26 to September 26
Outremonde, Théo Mercier, Collection Lambert, Avignon, from July 5 to September 26
Surface horizon, Jean-Marie Appriou et Marguerite Humeau, Lafayette anticipation, Paris, from June 17 to September 5
Drawing power – children compost, Drawing Lab, Paris, from June 26 to September 30
Oïkos Logos de Zevs, MAMO Centre d'art de la Cité Radieuse, Marseille, from June 23 to September 19
Mark Dion, galerie In Situ, Paris, from July 10 to October 2 
Biocenosis 21, Congrès mondial de la nature de l'UICN, Parc Chanot, Marseille, September 4-11
and also:
La Soupape de sécurité de la cocotte-minute, Hehe, CAC La Traverse, Alfortville, from July 8 to August 28
Nouer le reste, CEEAC, Strasbourg, from June 11 to September 26
La littorale biennale internationale d'art contemporain Anglet – Basque coast, from August 7 to to October 31
Hyper carbone, Pierre Gaignard et Roy Köhnke, Galerie Eric Mouchet, Paris, from May 29 to September 4
La Mer Imaginaire, Villa Carmignac, Porquerolles, du 20 mai au 17 octobre
Credits : Fire on the sea, 2021, Jean-Marie Appriou, exposition Surface Horizon à Anticipations Lafayette, photo par Pierre Antoine /  Manifest of Strains (premier plan) et  Double Plot (fond), 2018, Otobong Nkanga, exposition When Looking Across the Sea, Do You Dream? de la Collection Wim van Dongen à Villa Arson, photo par Jean-Christophe Lett / La vie à elle-même (vue d'exposition), 2021, Isabelle Andriessen, Bianca Bondi, Tiphaine Calmettes, Grégory Chatonsky, Rochelle Goldberg, Laure Vigna, Flora Katz (cur.), exposition La vie à elle-même au Centre international d'art et du paysage, photo par Aurélien Mole / Evolution Series, 201, Zevs, exposition Oikos Logos au MAMO, 2021, photo par Benoit Pailley.
Find all the articles from Impact Art News n°32 – July / August 2021
To subscribe to Impact Art News (free) : here