The proliferation of Biennials worldwide is a testament to the growing significance of this art event format. They have proven to be valuable tools for navigating the complex world of contemporary art, while also serving as crucial platforms for exploring urgent topics such as the climate crisis. While observing the themes and contents of recent and forthcoming art events, we can see that biennials exhibit a stronger predisposition to tackle global environmental challenges. Why? What are the circumstances which put Biennials at the forefront of critical discourse on climate change?
One possible explanation is that many of them are located in the so-called Global South (in Africa, Latin America, the Caribbean, and Southeast Asia) or in parts of Europe (Finland, Greece…) that are affected by climate change (drought, fires, heatwaves, floods…). The Biennials that take place in these regions thus present a more authentic point of view on these issues, and often highlight potential adaptation strategies. Moreover, the inherently non-commercial nature of Biennials empowers them to assemble curatorial boards that emphasize social and sustainable values, freed from the need to prioritize financial gains, unlike art fairs.
On the other hand, this success also raises the question of their own environmental impact, as each Biennale brings with it a new stream of works, artists, and visitors to be transported.
Let's then take a closer look at current and upcoming Biennials that are changing the art world, linking social and environmental justice, bringing new practices, creating new utopias, and making tangible efforts to address ecological challenges.
An analysis of art biennials can start nowhere else than in Venice, which, in both art and architecture, is establishing itself as a conceptual laboratory for the world of tomorrow.
The Venice Biennale recently reached carbon neutrality status for switching to renewable energy sources and recycling the materials for its installations. The current Architecture Venice Biennale 2023 opened on May 20 (closes November 26), focuses on sustainability, particularly the importance of rethinking the exhibition model. The Biennale is entitled "The Laboratory of the Future", and, curated by Lesley Lokko, a Ghanaian-Scottish architect, educator, novelist and founder of the African Futures Institute (AFI), based in Accra, Ghana, its central exhibition highlights Africa as a role model of change at a global level. Many of the individual national pavilions also refer to the climate emergency. Amongst them, the Danish Pavilion exhibition, "Coastal Imaginaries", focuses in particular on rising sea levels, whilst the Korean Pavilion, "2086: Together How?" asks questions about the potential impact of the environmental crisis 50 years from now. Other Pavilions worth mentioning include the United Arab Emirate's exhibition "Aridly Abundant" and Germany's Pavilion proposal "Open for Maintenance".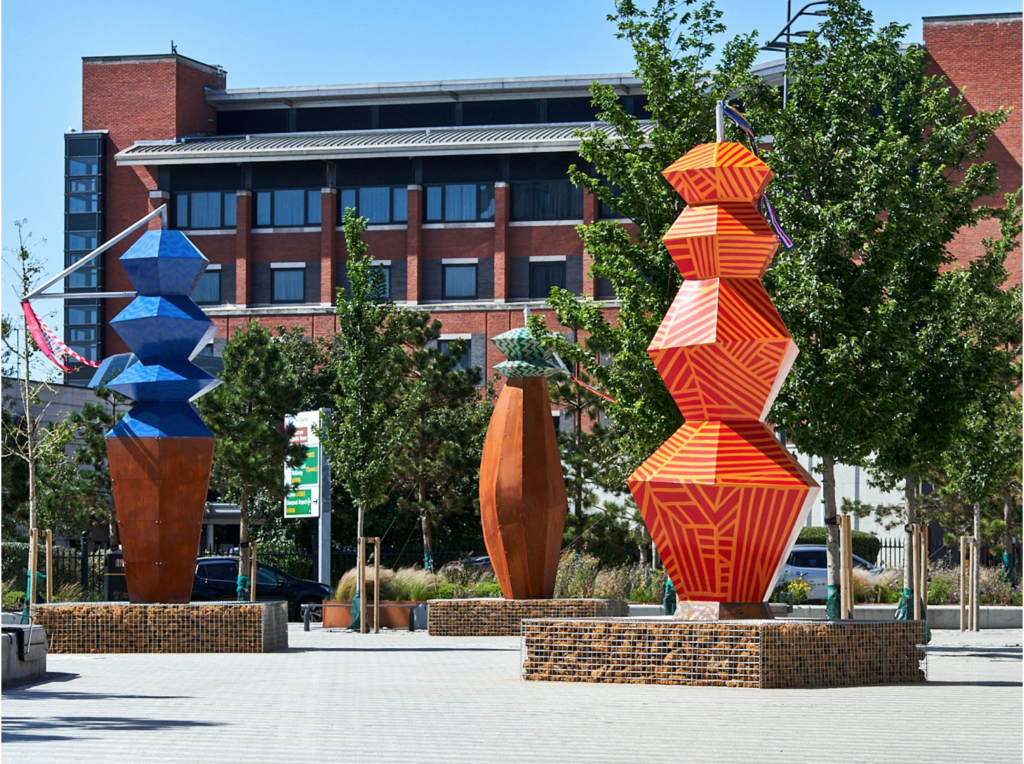 Alicja Biala, Merseyside Totemy , 2022. Photo © Rob Battersby. Liverpool Biennial
On the same weekend as Venice, on May 19, two more Biennales also opened. In Porto, the Bienal da Maia, entitled "Walking is how I arrived here", aims to explore the realm of "achievable utopias". It involves more than sixty artists from around the world and showcases artistic interventions revolving around the topics of change and different perspectives of the future. In Timișoara, Romania, the 5th edition of the Encounters Biennial, entitled "My Rhino Is Not a Myth", runs until June 18. Bringing together artists from 21 countries, it is dedicated to the intersection of art, science, and fiction, exploring their potential to recover reality as a web of complex processes.
On May 13, the 4th Industrial Art Biennial opened its doors in Pola, Croatia. With the title "Landscapes of Desire", this Biennial focuses on post-industrialization, which plays a crucial role in the current period of Anthropocenic upheaval. The curators, Christoph Doswald and Paolo Bianchi, invited 29 artists and commissioned many site-specific projects that address issues of economic sustainability, cultural diversity, and climate change. "Landscapes of Desire", running until June 30, appeals to the potential of networking and art to successfully challenge thought patterns for a sustainable world.
The current editions of the Sharjah Biennial (UAE) and the Gwangju Biennale (South Korea) are two biennials that are already open. The Sharjah Biennial runs until July 11 and is entitled "Thinking Historically in the Present". Exploring postcolonial narratives and aiming to challenge a West-centric art canon, the biennial features 70 new works spread across 19 venues, with an emphasis on trans-regional discourse and the integration of local culture.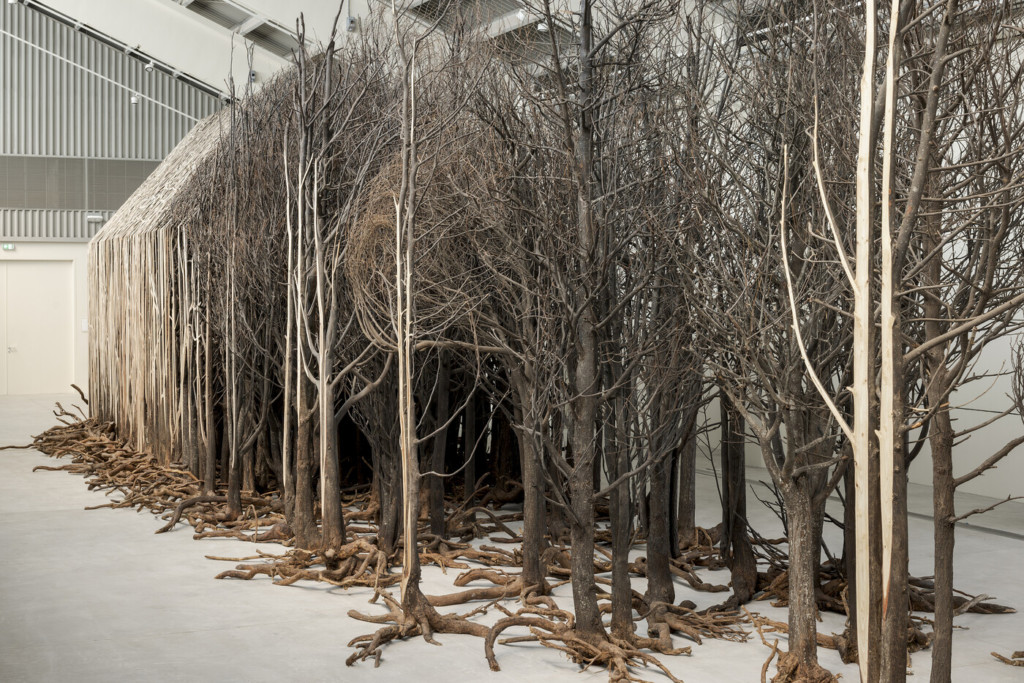 Doris Salcedo, Uprooted , Courtesy of the artist/ Photo © Juan Castro. Sharja Biennial
Overall, the biennial presents an exploration of art in a globalized context with a number of nature-related artworks that address, in particular, migration and environmental disasters. The current edition of Gwangju Biennale, however, is focused on water. "Soft and tender like water" is based on the philosophies found in Laozi's 'The Tao Te Ching', and is divided into four themes: "Luminous Halo," "Ancestral Voices," "Transient Sovereignty," and "Planetary Times". Curated by Tate Modern's chief curator Sook-Kyung Lee, it includes more than 80 international artists and the 14th edition will run until July 9.
The 2nd edition of the brand new Helsinki Biennial, in Finland, also takes a strong position on environmental commitment, it will take place from June 12 to September 17, 2023. Back in Autumn 2022, "Environment, Data, Contamination" began organization, a collaborative artistic research meeting dealing with the themes of environmental data, held at the University of the Arts of Helsinki in collaboration with the Environmental Data Research Group led by the renowned professor Jussi Parikka. This year's biennale is curated by Joasia Krysa, alongside a consortium of collaborators including TBA-21 Academy and Critical Environmental Data . Amongst the invited artists are many who are known for their dialogue with nature, including Dineo Seshee Bopape, Diana Policarpo, and Adrián Villar Rojas .
The 12th Liverpool Biennial, in the UK, taking place from June 10 to September 17, 2023 was curated by the South African artist and curator Khanyisile Mbongwa. It borrows its title from a word in the African isiZulu language: 'uMoya', which refers to the spirit, breath, air, weather, and wind. More than 30 artists were invited to engage with 'uMoya' as a guiding compass, giving rise to a final exhibition "uMoya: The Sacred Return of Lost Things", an homage to ancestral and indigenous forms of knowledge, wisdom, and healing.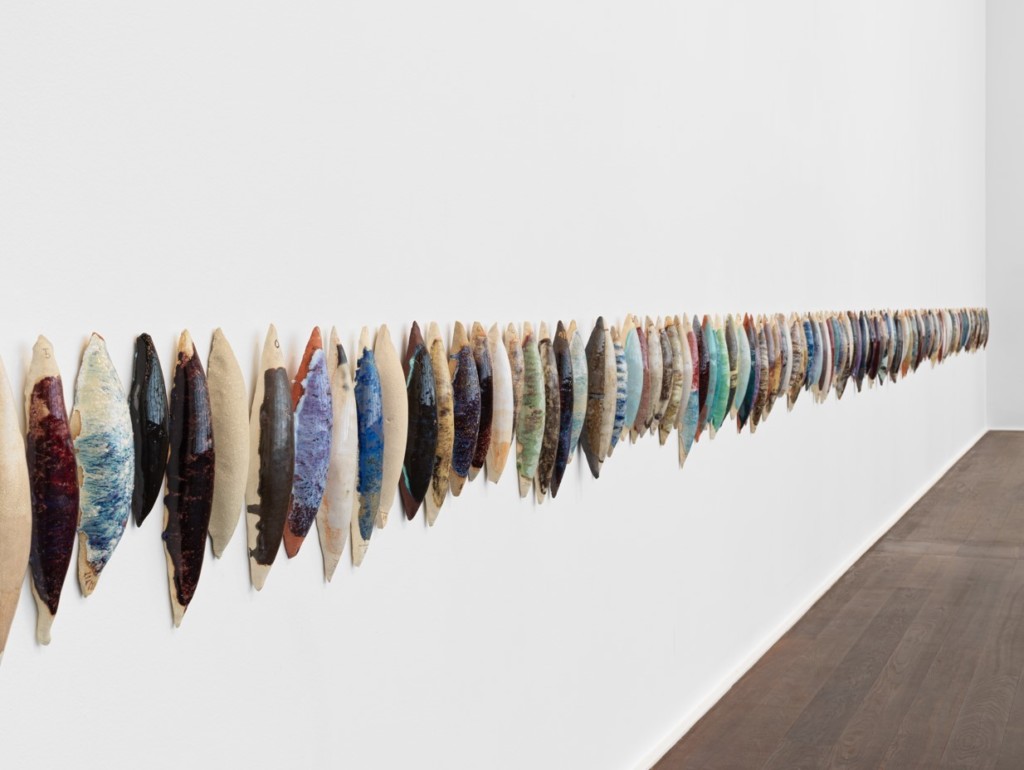 All My Colours, David Zink Yi. © Courtesy of the artist and Hauser & Wirth gallery. Gwangju Biennial
The 8th Thessaloniki Biennale of Contemporary Art, in Greece, is among the biennials that just closed. It took its inspiration from pioneer ecological activists. Its central exhibition, 'Being as Communion', is a reflection on co-existence: with those around us, with the more-than-human, with nature, but also with our past. The 28 international participating artists were selected by a major figure of the environmentally engaged art scene, Maria-Thalia Carras. She is the co-founder of Tavros Space, an organization that traces back to historic artistic practices, envision alternative ways of working with the earth, and pioneer ecological activism.
In 2024, there will be numerous other biennials addressing environmental issues in their programs, such as those in Dhaka, Toronto, Yokohama, and Glasgow. Among them, the Biennale of Sydney will certainly be a highlight. Its 23rd edition in 2022, titled "rīvus", was conceived as a dynamic living system and engaged in particular with indigenous communities. It emphasized these communities' profound respect for non-human entities whose right to life must be protected. The next edition will be curated by Cosmin Costinaș and Inti Guerrero, who have previously curated various other projects focusing on the relationship between humans and nature, including the 2016–17 exhibition "Soil and Stones, Souls and Songs," which traveled between Manila, Hong Kong, Bangkok, and the 2018 Dakar Biennale in Senegal. Finally, Nicolas Bourriaud, recently appointed artistic director of the upcoming 15th edition of the Gwangju Biennale, in Korea, declared that it will focus on the impact of the Covid-19 pandemic and art's potential role in the recovery process.

The neverending expansion of Biennials redefines the precarious balance of the art world and its implication towards climate change. However, their growing abundance appears predominantly beneficial, given their ability to transcend the boundaries of the art elite and engage with a much wider public, igniting important discussions about sustainable collective actions.  That so many of the current and upcoming biennials addressed and highlighted the idea of resilience shows the restorative power that art can have.


Lucia Longhi
May 2023
Cover image: Installation view of the Croatian Pavilion at the Venice Architecture Biennale. Photo © Bosnic+Dorotic
Impact Art News, April-May 2023 #43
Subscribe to Impact Art News: here