In Italy, since mid-May, a new renaissance has emerged, where artists and architects are drawing new perspectives and inventing new possibilities in response to the ecological crisis. Far from seeking a new measurement of man, they seek another relationship, especially with non-humans. A "wild renaissance" as the researcher and art theorist Guillaume Logé describes it, is currently being reborn in palaces, gardens, galleries and pavilions in Rome, Venice and Turin.
Since May 7, at the PAV (PARCO ARTE VIVENTE) in Turin, the exhibition Sustaining Assembly brings together international artists whose works rethink our relationship with the environment. The current ecological crisis is leading them to imagine works using non-fossil energies as well as relying on the circular economy. Artists like Zheng Bo and Mao Chenyu recount their experiences of Asian communities while others, such as the Karrabing Film Collective, put ecological issues in Australia into perspective. The artist duo Bouba Touré and Raphaël Grisey present research on African experiences of Somankidi Coura. It should be noted that Zheng Bo's té equality fr installation is being carried out with the support of the French Ministry for the Ecological and Inclusive Transition.
The Back to Nature exhibition at the park of Villa Borghese in Rome has been offering an artistic journey to discover the relationship between sculpture, installations and different natural elements since May 12. Loris Cecchini's work is subtly inserted into a tree, while Leandro Erlich offers an installation that plays on perspective. Tomás Saraceno, well known for his installations based on spider web structures, has presented an interactive digital work. Around mid-June, an installation by Michelangelo Pistoletto entitled Il Terzo Paradiso will be added to this exhibition, the form of which symbolizes the relationships between men, women and nature, echoing a possible future world.
Open since May 22 at the Alberta Pane Gallery in Venice, Gayle Chong Kwan's Waste Archipelago exhibition presents his photographs, installations and works on paper created from organic elements and food waste, prompting us to reflect on the exploitation of natural resources and environmental issues.
The 17th Venice International Architecture Biennale with the title "How Will We Live Together?" brings together forty-six different countries and has been open since May 22. Under the leadership of curator Hashim Sarkis, the biennial brings together architects, artists, builders, craftsmen and researchers in the gardens, at the Arsenal, at the Fortress Marghera, but also digitally, exploring a new "living together" fully integrating non-humans.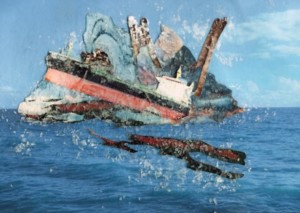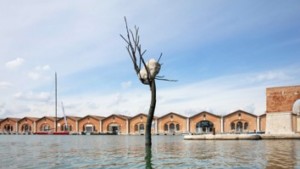 Credits: Gayle Chong Kwan, Crysanthi South Africa 2019, series 'Oil Spill Islands', Alberta Pane de Venise gallery, 2021 / Giuseppe Penone, The Listener, Venice International biennale of Architecture, 2021
Among the highlights of this Biennale:
The highlights of this Biennale are numerous. At the Future Assembly exhibition by Studio Other Spaces (SOS) founded by Olafur Eliasson and Sebastian Behmann, a large circular carpet made from recycled marine debris represents the map of a multilateral assembly. Stakeholders are extended to not only include humans, thus raising the issue of natural rights and offering a new approach to multilateralism. At the Arsenal, works by many international artists and architects respond to the ecological crisis: the Bouroullec brothers, the Raumlabor collective, Tomás Saraceno, Tomáš Libertíny, Sissel Tolaas, the London design studio Superflux … Other highlights include the exhibition of the new design collective Labinac (founded by Maria Thereza Alves and Jimmie Durham) taking place in the greenhouses of the royal gardens; and the replica of the Bird Pavilion by Patrick Berger, the first construction for use by animals from the ethological, architectural site of Grancey-le-Château. Finally, a work by Giuseppe Penone can be seen in the Venetian lagoon. The Listener features an elm that supports a heavy stone and "expresses notions of fluidity," according to the artist. This in situ installation links the natural elements together in a great work of poetry.
From June 20, the Castello di Rivoli, near Turin, will host a solo exhibition by Otobong Nkanga, an artist who cares where exploitation and inequality have left their wounds. Thought of as an installation in situ, a large irregularly shaped carpet inspired by malachite – a stone with healing properties since antiquity – takes place within this historic site.
Would Italian heritage sites become the sanctuary of a new humanism? Bearing witness to the deep connections between contemporary art and historical sites, to the link between present and memory, Italy offers an essential base for thinking differently about the future.
Pauline Lisowski
Sustaining Assembly, Parco Arte Vivente, Turin, Italy, from 7 May 2021 to 24 October 2021
Otobong Nkanga, Castello di Rivoli, Rivoli, Italy, from 24 September 2021 to January 30 2022
Back to Nature, parc de la villa Borghese, Rome, Italy, from 12 May 2021 to 25 July 2021
Waste Archipelago, Gayle Chong Kwan, Alberta Pane gallery, Venice, Italy, from 22 May 2021 to 24 July 2021
Venice international Biennale of Architecture, Venice, Italy, from 22 May 2021 to 21 November 2021
FUTURE ASSEMBLY, Venice, Italy, from 22 May 2021 to 21 November 2021
ECHOES of the FOREST, LABINAC at Royal Gardens Of Venice, Venice, Italy, from 19 May 2021 to 5 June 2021
May 2021
Credits: Michele Guido, exposition Sustaining Assembly, Parco Arte Vivente, Turin, Italy, 2021 / Loris Cecchini, exposition Back to Nature, Villa Borghese, Rome, Italy, 2021
Find all the articles from Impact Art News n°30 – May 2021
To subscribe to Impact Art News (free) : here